The arching sky is calling
Spacemen back to their trade.
ALL HANDS! STAND BY! FREE FALLING!
And the lights below us fade.
Out ride the sons of Terra,
Far drives the thundering jet,
Up leaps a race of Earthmen,
Out, far, and onward yet.
– 'The Green Hills of Earth,' Robert Heinlein
The USS Endeavour (NCC-91502) is an Obena-class starship assigned to the Fourth Fleet under the command of Captain Matt Rourke. Commissioned in late-2399, Endeavour was attached to a diplomatic mission to the Neutral Zone to continue the work of her namesake, a Manticore-class decommissioned after a terrorist attack by the Romulan Rebirth Movement. In the face of this opposition, Starfleet has recommitted to building bridges with the Romulan factions and bringing stability and support to a troubled region that has over fifteen years become a home to warlords and refugees alike.
As such, Endeavour is outfitted to conduct diplomatic operations that may require her to offer limited humanitarian support to a struggling frontier world, or defend against threats. Her support craft includes a flight of fighters for patrol and escort duties, and she has been equipped with an expansion of the Combat Information Centre that allowed her predecessor such strategic success. But first and foremost she is equipped to shelter those in need, welcome delegates of foreign powers, or host summits to discuss a world's future and needs, so she may best bring the Federation's torch of hope to a shrouded frontier.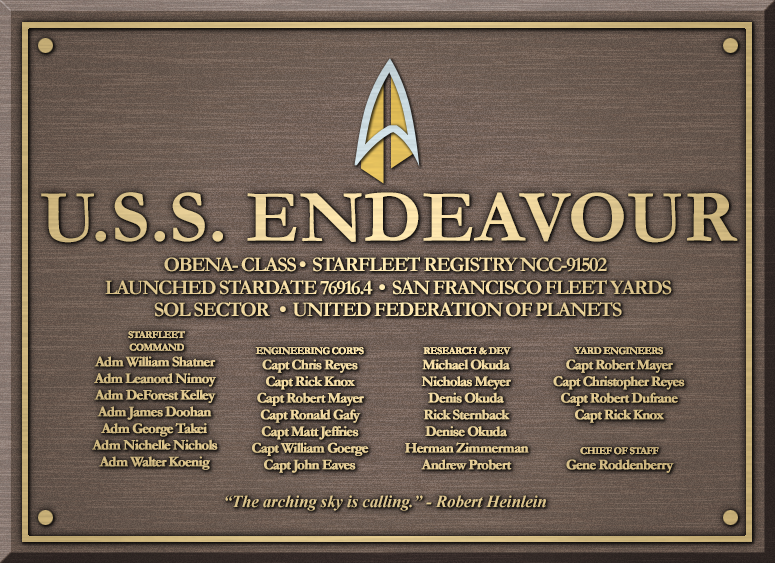 Previous Starships to Bear the Name
Endeavour (NX-06), NX-class
USS Endeavour (NCC-1895), Constitution-class
USS Endeavour (NCC-25330), Ambassador-class
USS Endeavour (NCC-71805), Nebula-class
USS Endeavour (NCC-87507), Manticore-class
This story is rated:
for content, which equates to roughly a 16+ rating