'Another?' Vice Admiral Beckett's face was like granite as he entered the operations centre for Fourth Fleet Intelligence.

Even though she'd expected him, Commander Lockhart jumped, then grimaced bashfully. 'Several, sir. Borg signals are cropping up across the Beta Quadrant.'

Beckett advanced on the holographic display of the galactic map. The great powers shone bright, the Federation's democratic cerulean bracketed by brash crimson, perfidious emerald, conceited gold. Those were the hues that dominated his day-to-day, the rivals, allies, and foes who commanded most of his and his department's attention. But while his eye still fell to those borders, it was not they who had his attention, for once. 'These aren't ships.'

'If they were ships, sir, we'd be on full alert by now,' Lockhart confirmed. She tapped one shining neon green light, winking atop a Federation insignia. 'Starbase 10 has been dismantling the black market in the former Neutral Zone. Two months ago, they broke up a smuggling ring whose goods included Borg technology. That trade lost its leadership in the last few years, so it's been a lower priority, but it's still been on our sensors. Starbase 10 retained the technology – implants from xBs, wreckage from the Artifact – for evidence and for study.'

'That's the source of this signal.'

'Yes, sir. They thought they'd killed all power sources on the Borg devices, only for half of them to turn out to have an emergency power supply, enough to activate a homing signal.' Lockhart straightened. 'Admiral, Starfleet has seen these before. They're emergency signals lost drones and ships send out when they need retrieving. It matches the same signatures the Enterprise recorded in their encounter in 2368.'
You can read the full launch story for Fleet Action V: We Are the Borg here.
Bravo Fleet's fifth Fleet Action, We Are the Borg, has officially launched! Join in on this event as we offer a slew of competitions, gaming, and of course, writing!
If you haven't already, you should check out the Lore Office Briefing on We Are the Borg as well as the opening fictions of We Are the Borg.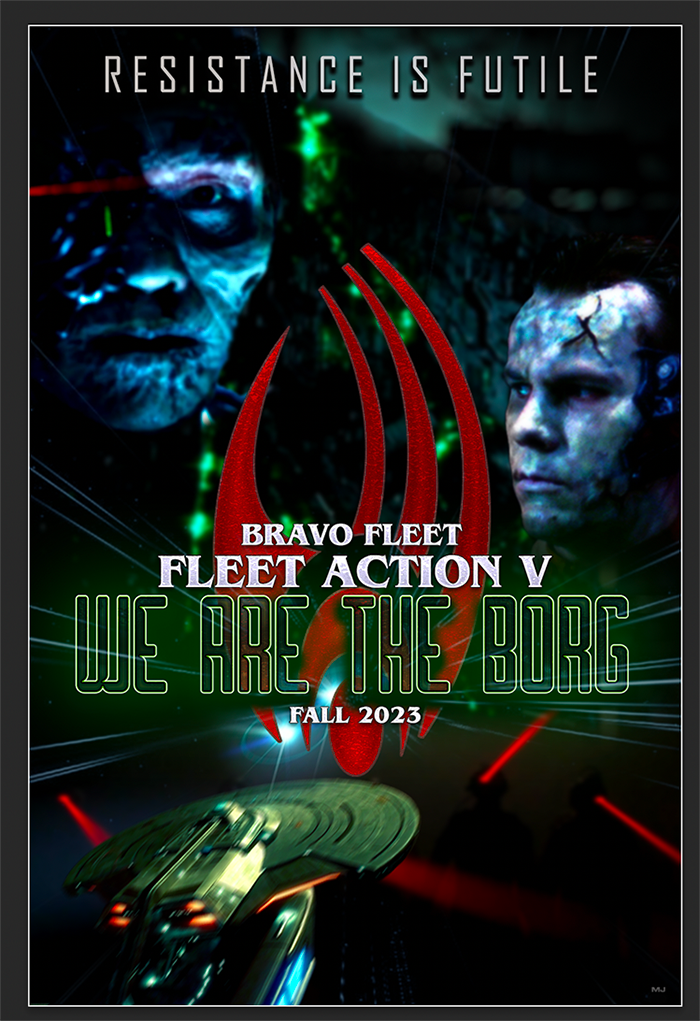 Like the previous few Fleet Actions, the overall structural format will be the same. The Fleet Action itself will be comprised of three phases, each two weeks long. Each phase will contain 13 competitions, including ribbon races. We made it so that a bulk of the competitions were fun but quick to do so that it didn't take up too much time for you guys. As always — if you see an error or have problems with a competition, please contact either the competition organizer directly (who will be listed on the competitions page!) or the Chief of Staff. And be sure to read the competition prompt in its entirety and what it is asking for!
A brand new feature in BFMS for this Fleet Action is a competition type that has a built-in timer on BFMS. This has allowed us to ditch the previous tiebreaker of "first person to submit" and instead replace it with the time taken between starting a competition (revealing the relevant information or link to a puzzle/game) and submitting your entry to BFMS. The timer works in the background to count down how long this time takes, and will be used in a lot of competitions in We Are the Borg as the tiebreaker for competitions that are both likely to end in a tie and don't have a tiebreaker already built in. This has opened the door for us to add in several other types of competitions before that we couldn't really do or didn't feel comfortable doing because "first person to submit" in a competition where almost everyone is going to get 100% is not fair. It basically boils down to what time zone you are in or even your work schedule. But, for a long time, we were working within the confines of what we had available to us to the best of our ability. Now, it is entirely based on your ability and skills and how fast you can complete the competition. Remember: do not click the "start timed competition" until you are ready! A big shout out to FAdm Alex Grayson (JonM) for making this wishlist item of mine a reality!
For the writing portions, remember that moving the plot is the name of the game, and we're here to help if you need it! However, once a phase is over, it is over, and the Fleet Action is moving on to the next phase! So don't stall yourself out on writing a briefing scene for all 6 weeks. Coffee sipping is not recommended!
Scoring
Each individual will earn five points per event they participate in towards their overall score for the We Are the Borg event. Participation is defined as a valid submission for an event. Simply signing up for an event or uploading an unqualified submission will not count. You have to put in the effort in order to receive the reward.
Additionally, the top three individuals in each event will earn placement points. First place will earn three points, 2nd Place will earn two points, and 3rd Place will earn one point. Events will have modifiers based on their perceived difficulty/level of effort required. They are:
Writing: 3
Graphics: 2.5
Poetry: 1.75
Gaming: 2.25
Flash/Browser Gaming: 1.75
Short Writing/Flash Fiction: 2
Puzzles/Trivia (HARD): 1.75
Puzzles/Trivia: 1.25
Ribbon Races: 1 (effectively no modifier)
Grading formula: (Placement Score * Event Modifier) + Participation = Event Score
At the end of the competition, the individual scores for all three phases will be added up, and the top three individuals will earn stars. The task force with the most points earned by its members will receive bragging rights. In the end, this event is meant to test the task forces against one another for supremacy.
I cannot stress enough that participation is key to winning. Don't quite have the answer? Submit what you have! Not that great at graphics? Whip out MS Paint and do your best! Can't write a novel? That's okay, write what feels fun! The entire point of the Fleet Action is for you guys to have fun and that is why the scoring is based on you just participating and having a good old time!
Fleet Action Wide (October 27 to December 11)
Phase One (October 27 to November 12)
Happy Fleet Actioning!