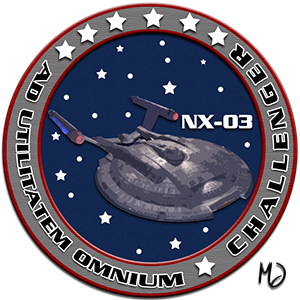 Space seems so vast and once a region is explored and mapped out another one soons follows. For over five years now, the United Earth and its Commonwealth of Colonies have been discovering new planets, races and regions they never knew existed. Now after forming an alliance with nearby nations, Humanity continues to push forward in finding out what lies out there.
The Challenger is Earth's third ship to be launched to find out what is beyond Earth and to prove to so many that Humans are able to take on the responsibilities of inter-galactic politics. These early days of exploration are exciting and dangerous ones for those members of the Challenger's crew. However like so many ships before her that have been named Challenger, the ship and her crew will not stop until they reach the final frontier.
Earth and its Commonwealth of Colonies are pushing the boundaries for the first time, this is history in the making like you've never seen before! Commanded by Fleet Captain Lloyd Burton, the crew of Challenger carry out their motto; ad utilitatem omnium – for the benefit of all.
Star Trek: Challenger, is a fiction set in the mid-22nd century, shortly after the events seen in Star Trek: Enterprise "Terra Prime" and before "These Are The Voyages…". Our aims are to provide a fun, safe and quality writing environment for all who wish to discover the potential that makes Star Trek such a successful world-wide creative institute. We're a proud member of Bravo Fleet.
About Star Trek: Challenger
Star Trek: Challenger was originally an active forum-based simulation in Bravo Fleet's affiliation NX-Division and later Task Force 99. The simulation started in 2010 and lasted for two years (finishing in 2012). It was re-started in 2019 and the stories that were created back then are being shared and extended further. The fiction exists only for fun and creativity! Nothing more!
CANON
The fiction is based in the year 2155 and subsequent years (this is shortly after the penultimate episode of Star Trek: Enterprise, Terra Prime). We include some of the novel canon that followed the end of Star Trek: Enterprise as part of ours, but with a slight Bravo Fleet twist!
THE CHARACTERS
Most of the characters created are original characters created by the players of the original simulation or by the game manager. We tap in and use some canon characters, but not all and in such large quantities! We try to remain as original as possible.