The U.S.S. Challenger NCC-71099 is a Galaxy-class explorer, the fifth such starship to be constructed and one of the oldest still in service. After 34 years, the Challenger is showing no signs of slowing down. Following a recent year-long refit, she has once again taken flight under the command of Captain Thomas Forrester.
Originally designed and built with exploration in mind, the Challenger's deep space mission was scrapped in 2373 and she returned home as the clouds of war gathered on the horizon. A quick refit focusing on her tactical capabilities followed and was completed shortly after the outbreak of war with the Dominion at the end of that year.
The Challenger's service during the Dominion War was exemplary and when it was over, the Federation's focus shifted to rebuilding efforts and providing aid to Cardassia. Given her cargo and passenger carrying capacities, the Challenger was well suited to these tasks and spent the post-war years on them. By 2380, she had finally returned to the mission for which she was built: long-term deep space exploration.
The Challenger was once more pressed into service as a refugee carrier in 2374 when the Romulans requested assistance with evacuating their worlds in the face of the impending destruction of the Romulan star. This mission was halted following the synth attack on Mars a year later.  In the years that followed, the Challenger was limited to scientific research missions in and around Federation space.
In 2399, with much of Starfleet's focus on exploration of the Delta Quadrant, the Challenger's first post-refit task with a six month exploration mission of the Gamma Quadrant while providing assistance to those worlds that've been abandoned by the Dominion over the past four years.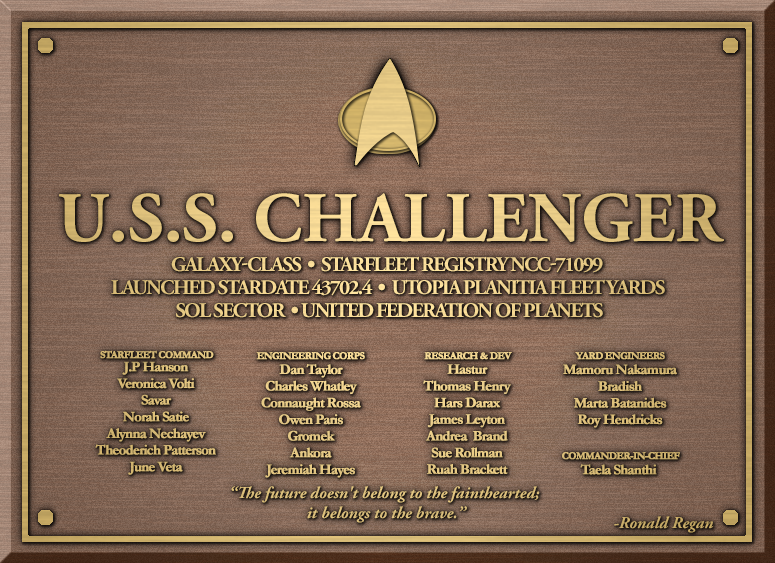 This story is rated:

This is broadly equivalent to a 16+ rating