As Time Goes By…: [Phase 1]: 'Picture Perfect?' – Character Pictures
Lead Judge
James Preston McCallister
Start Date
1st August 2020
End Date
15th August 2020
Rules
Before participating in a competition, please read and understand our competitions policy. Please do not share your results or submit multiple entries. Violations of these rules are punisble by the Magistrate Office.
Questions
If you have a question about our rules or one of our competitions, please contact the Office of the Chief of Staff.
Bravo Fleet Chief of Staff

cos@bravofleet.com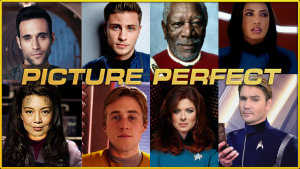 For all of those keen artists out there, why not have a go at creating a picture (in any format like a cartoon, photo-manipulation, etc.) showing what their ancestor's character (see competition 4) would look like in their era's uniform(s).
Criteria
Pictures will be graded on: • Realistic size comparisons (e.g.: head to neck to shoulder ratio, so no small heads on huge shoulders); • Originality in creating a Trek alien in Starfleet uniform from scratch; • The realism of the picture.
You must upload your character picture to the BFMS.