As Time Goes By…: [Phase 1]: 'Picture Perfect?' – Character Pictures
Description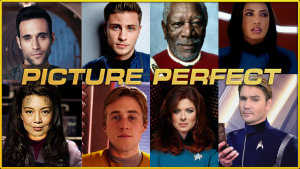 For all of those keen artists out there, why not have a go at creating a picture (in any format like a cartoon, photo-manipulation, etc.) showing what their ancestor's character (see competition 4) would look like in their era's uniform(s).
Criteria
Pictures will be graded on: • Realistic size comparisons (e.g.: head to neck to shoulder ratio, so no small heads on huge shoulders); • Originality in creating a Trek alien in Starfleet uniform from scratch; • The realism of the picture.
You must upload your character picture to the BFMS.