As Time Goes By…: [Phase 1]: 'Ancestral Acquaintances' – Character Creations
Lead Judge
James Preston McCallister
Start Date
1st August 2020
End Date
15th August 2020
Rules
Before participating in a competition, please read and understand our competitions policy. Please do not share your results or submit multiple entries. Violations of these rules are punisble by the Magistrate Office.
Questions
If you have a question about our rules or one of our competitions, please contact the Office of the Chief of Staff.
Bravo Fleet Chief of Staff

cos@bravofleet.com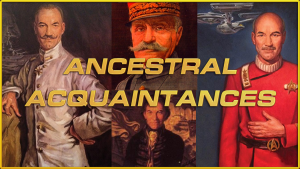 You will need to create one of your character's ancestors who served in Starfleet prior to 2379. You will need to write a full character biography and upload it to the BFMS.
Criteria
Winners will be picked on the following factors: • the most original character; • how well the character's personality, qualities, hobbies and interests are developed • Their early life, including notable description of their childhood, teen years as well as other important family members and friends; • A detailed service history within Starfleet, including examples of certain missions that they performed well in (or not so well in); • How they died in the line of duty (if they're dead).
Remember to put a link from the BFMS with your submission.