USS Sarek: An Appetite So Dangerous
When a Federation starship emerges from the mists of the past, Yuulik must race against time to save both crews from oblivion!
Mission Description
It's old home week when the USS Sarek returns to the small-town Typhon Expanse after hunting blood dilithium through the big-city Gradin Belt in the Delta Quadrant.  When a Federation starship emerges from the mists of the past, will Yuulik have the nerve to save her broken crew or her broken heart?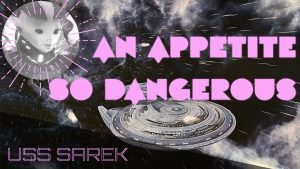 Previously on USS Sarek:
When Blood Dilithium bloomed across fourteen sectors of the Gradin Belt, Captain Taes and the USS Sarek were tasked with journeying to the Delta Quadrant through the Barzan wormhole and studying the mysterious red dilithium that has grown from seemingly nothing.
The archaeology and anthropology expertise of the Sarek crew investigated the remains of a civilization, discovered by a Starfleet mining operation, on what they believed to be an uninhabited moon.  Captain Taes became cornered between Starfleet's needs to understand the dilithium, the scientific avarice of her new crew members from the Romulan Free State, and that menacing voice in her head whenever blood dilithium was near.  Blood dilithium proved emotionally dysregulating to telepathic species, causing Captain Taes and Chief Engineer Leander Nune to be temporarily relieved from their duties.  After being physically attacked by Nune, in her search for answers about blood dilithium, Assistant Chief Science Officer Sootrah Yuulik conducted a failed experiment on herself in a misguided effort to make herself telepathic.  Only in partnership with the fourth fleet –and the Task Force 17 flagship, USS Discovery– was the Sarek crew able to unlock the mysteries of blood dilithium and banish it back to the subspace from whence it came.