The reports are in and the nominations are tallied! It's time now for our monthly Player and Sim Awards, along with a couple surprises!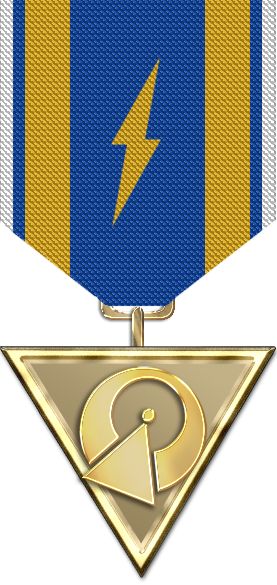 Recruitment Award
Fleet Captain Marc Davis
For bringing in the new players listed below into Bravo Fleet from recruitment sources outside Bravo Fleet (Twitch Stream).
Player of the Month

TF9 – Lieutenant Arkady Sjet, USS Vindex
He has been a solid poster since his arrival and the portrayal of his character has been outstanding.
TF38 – Lieutenant Samuel Thompson, USS Infinity
For deep character development and graceful joint post writing.
TF72 – Subcommander Dutir, IRW Aehv
For incredibly hard work and striving to make a unique mark in Bravo Fleet by launching a Romulan sim.
TF93 – Petty Officer 2nd Class Reginald Hawthorn, USS Ajax
He's always quick to add a quip or twist or just a little flair of drama into whatever's happening, and has become one of the most active players on the sim.
TF99 – Lieutenant Alex Rho, USS Triumphant
He has stepped up beyond the call of a player and designed the current mission, taken the role of Second Officer and is helping run the mission while keeping his own character in the dark about what is happening.
Sim of the Month

TF9 – USS Vindex
The Vindex has built a steady reputation of being a top performer in the Task Force, and has contributed significantly to the Fleet Canon.
TF38 – Pioneer Colony
This sim has taken on a unique challenge, exploring something a bit less often looked at in Star Trek, assembling a colonial government.
TF72 – Deep Space 12
DS12 has struggled as of late, but they've found a second wind and have surged back to activity.
TF93 – SFI Delphi
The simulation has grown over the past two months into a role model simulation for the Task Force.
TF99 – USS Exeter
This Kelvin Universe sim has an excellent plot and the collaboration among the crew is nothing less than amazing.
Bravo Fleet Sim of the Month


SFI Delphi
Finally, on behalf of the Bravo Fleet Command Council, I have to address a particular member of our fleet. Many of you know that one of our players has recently overcome cancer. This is a difficult battle for any soul, and this player knows this first hand. What has amazed us is that in all of his plight, in all of his pain, Blackwolf has pushed through and dedicated his time to fostering Bravo Fleet and Task Force 93. This is why, with great honor, I am pleased to announce that Blackwolf's Admiralty character, Anin, has been promoted to Vice Admiral.
Congratulations to all! July was an incredible month for the fleet, and you all should be very proud!