Congratulations to everyone that participated in our latest Fleet Action! It is because of everyone who participated as a writer, gamer, or competitor that we are able to continue our streak of engaging and fun Fleet Actions! I wanted to share with you all the top three tweets that were submitted for our Twitter: 2400 competition!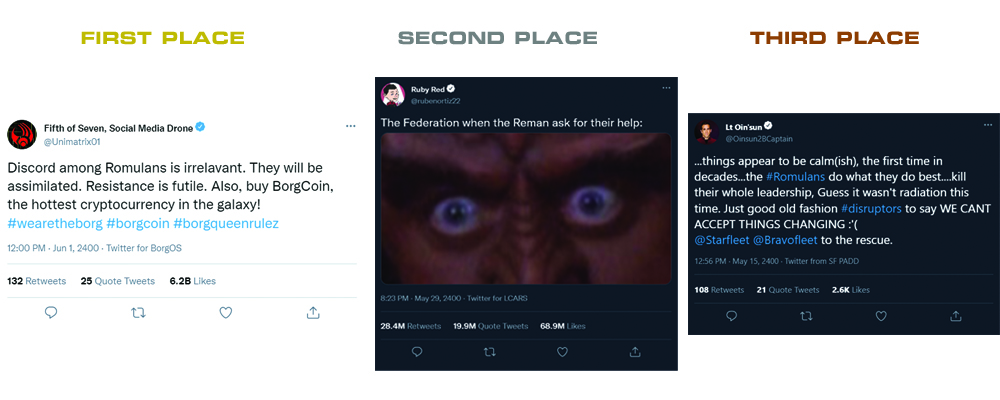 There were some great entries, but these three rose to the top for creativity, uniqueness, and ties into the Fleet Action! We have some good creative minds in the fleet.
---
Welcome also to everyone who has joined the fleet over the last several months! We have seen an amazing amount of activity and participation from our new members and we are so happy you've chosen to spend some time with us writing Trek, talking Trek, and gaming in Trek.
In order for us to keep improving and striving to make this community better, we like to take a survey from time to time of the membership. It's important that we get as much participation as possible so we have plenty of data points for us to work with! So, please take our Summer 2022 BF Survey today!
---
Finally, I'm pleased to announce the addition of two new staff members to the Communications Department. I'd like to welcome to the staff Peter Crawford aka aarondelay as our Staff Assistant: Social Media who will be assisting in posting amazing content on our Facebook and Twitter! I would also like to welcome R'Tor as our new Staff Officer: Graphics (aka Graphics Director) who will be leading our BF Graphics Team and providing oversight to the request pool.
Thank you both for taking on these leadership roles, we are pleased to welcome you onto the staff!