In 2399, first it was the D'Ghor, then it was the Tkon. Old threats endangered the whole galaxy, while new enemies struck at Federation borders.
In 2400, the first danger is much closer to home.
Introducing: The Stormbreaker Campaign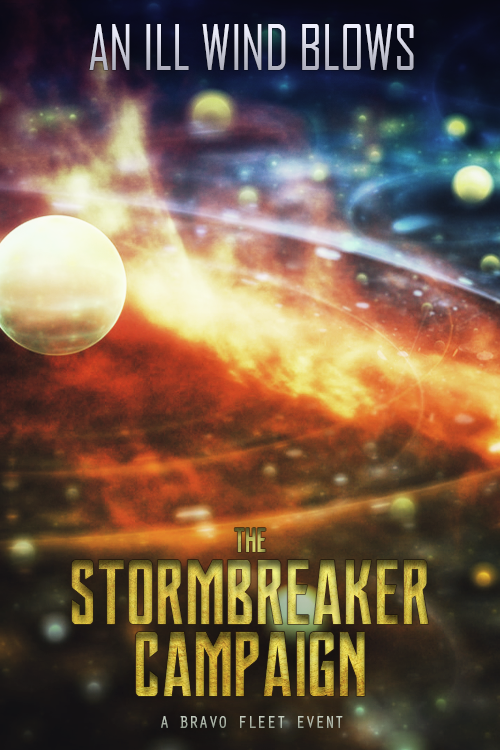 Murray cleared his throat, suddenly serious. 'It's a general distress call from the science station Gamma-7, point-two of a light-year out. An ion storm's come up on them suddenly and it's probably too strong for their shields.'
Valverde straightened. 'Do they need evac? Can we evac?'
'The Swale has responded; they can give more help than us. We get to sit tight,' said Murray, and bit his lip. 'Weird, though. Storm this strong, we should have seen it coming.'
Behind him, T'Saren brought up the long-range sensor display to encompass the surrounding region, including the science station, the Swale, and the ion storm itself. 'Based on the storm's trajectory and intensity, according to any logical point of formation, we should have detected it ourselves on our approach.'
Valverde slid back behind the controls at the science console. 'Checking our sensor records; I'll start to filter them for the usual nebula interference. Sometimes we can't see beyond our own noses in this place. Maybe we picked it up somewhere else and it, I don't know, changed trajectory?'
'That would be highly irregular,' T'Saren pointed out.
But Valverde didn't reply. By now, Murray knew the difference between the young science officer's silences of intense thought, and silences of speechlessness. This was the latter. 'Kid?'
Valverde cleared her throat. 'Here,' she said at length. 'It originated here.'
---
Bravo Fleet Campaigns are run by the Lore Office. They last a matter of weeks and introduce a threat or challenge to some region of the galaxy. For the duration, members will write about this plotline, telling the stories of how their ships and characters confront their own enemies and obstacles. Together, we build a grand narrative of a pivotal event in the fleet's timeline.
In the Stormbreaker Campaign, a series of freak and volatile ion storms have struck the Paulson Nebula. Close to the Fourth Fleet's headquarters at Starbase Bravo, the nebula is home to a multitude of colonies, industrial and research facilities, and trade routes. All are now in extreme danger as the storms unpredictably manifest across the region in varying intensity.
It falls to the Fourth Fleet to respond – to shield the worlds they can save and evacuate the ones they can't, to escort refugees to a safe haven, to protect all operations against those who might take advantage and, if possible, to find the cause of these phenomena and end them. This will be a story of both a humanitarian crisis and a scientific mystery, where Starfleet must harness its resources to save people in desperate need and where intellect and technology alone can stop the threat.
The Stormbreaker Campaign will begin on Saturday, 5th February and run for 6 weeks on BFMS until Sunday, 20th March.