Hello and welcome to a post-Halloween update from the Gaming Office. I hope everyone enjoyed their time playing the Halloween Event in STO, and maybe even had a chance to try HOLY HELL WHAT IS THAT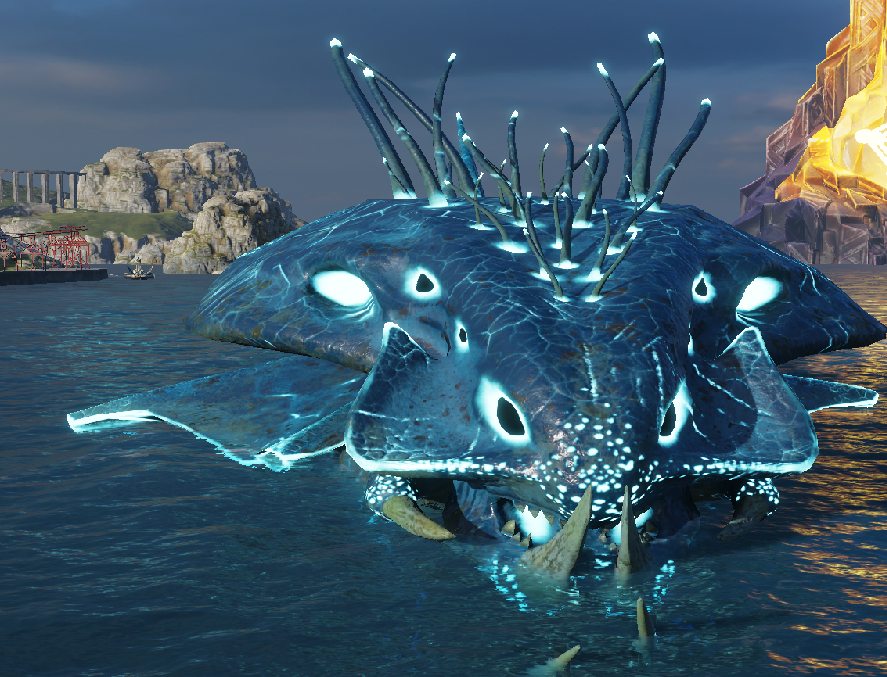 Geez, World of Warships has some odd "ships" sometimes – this is a Fangblade, one of the rewards for playing the Twilight Hunt mode. Very fun, give it a try sometime.
Speaking of events, I know that you all might be wondering if there's something going on within the Gaming Office. We haven't had a good old-fashioned competition in a while, have we? Well, fear not. Our intrepid Gaming XO, DarthCrusader, has put together a little beauty shot competition within Star Trek Online. We have two going – one for KDF ships in specific, and one for Starfleet ships. We do have a rule for no vanity shields, to keep it a bit more level of a playing field so that all can participate. Check them out.
STO's fleets are doing well. Bravo Fleet is now at Level 67, with a cooldown for the next project on right now to Level 68. One more and we'll be nice. The House of yo loS' is doing also well, but no new projects have been completed with it since last update. Klingons being a bit less used in game I kind of expected this, and it is not a big deal.
We will probably have more coming soon – STO's Winter Event will probably be happening either last week of November or first week of December, and that seems to be one of our more popular events through the year, so watch out for this announcement soon, and the Gaming Office has been throwing around the possibility of a new breed of competition based on other in-game traits. We'd like to organize a few gaming nights, especially during the busiest of the retail seasons as a stress reliever, and if anyone would like to organize a formal get together – snowball fight, throwing rocks back at Gorn on Nimbus, collecting cortical implants – send up a quick pitch to either myself or Darth through Discord.
Good luck, and fair seas and skies.