Normal Operations
"Are all of my ships back where they belong?"
Captain Bancroft looked up from the pool table display at the heart of Fleet Operations on Starbase Bravo, coming to a respectful at-ease position before nodding to the Director of Fourth Fleet Operations. Admiral Seagraves had the unnerving ability to sneak into one of the most heavily staffed rooms on the station without managing to stumble across an Ensign with the reflex to announce her presence; Bancroft would have preferred the annoyance of having the entire room come to attention a hundred times a day to being surprised by her presence.
"Yes, Admiral. Normal operations have resumed. We still have several high-priority missions to assign in the Archanis Sector, but local forces are handling most of the aftermath from our campaign there," Bancroft replied. The Admiral had not been pleased when Fourth Fleet Intelligence had diverted a large chunk of their operational forces, not because she objected to the campaign itself, but because reconfiguring the deployments for a hundred starships was not an easy task.
"Good. Let's make sure no embers remain to allow another wildfire to erupt in that region. There's nothing quite like a group of rogue Klingons to really ruin my whole day," Seagraves replied, crossing her arms. "I want a list of fleet-wide operational priorities drawn up and a fresh slate of new command candidates to make up for this diversion."
"Already done, Admiral. I've also taken the liberty of making several staff appointments to keep us on track."
Seagraves's eyes narrowed. Bancroft knew that she was having an internal conflict between having her orders anticipated and feeling preempted, but she just nodded. "I wondered who all of the new faces were. Make sure you send them up so I can get a feel for how well you selected them," she said, giving him another glance like she was looking for something else to be annoyed at, before breezing right back out of the room to her office.
Overview
As alluded to in the little fiction piece here, now that we're out of the Archanis Campaign things are back to 'normal,' until the next fleet-wide activity, but each Task Force is now in a four-week cycle of offering competitions, to give folks a way to advance and stay engaged in the meantime. All four Task Forces are also in the midst of efforts to bring more direction and support to their fiction areas on the forums, which they will each expand upon in their own reports as updates are available. As a reminder, if you have an idea for a competition, you do not need to be on staff to run it! Consult with the Office of the Chief of Staff for information on how to get started running your own competitions.
Ensign Update
As noted in the fiction above, there's a fresh new crop of Ensigns that have graduated this month and are now commanding officers in waiting! Congratulations to the five new ensigns of April (that kind of sounds like a band name…): Alex Matthews, Orlaith, sammysuz, Elio Samson, and StormyWays13!
Operations Staff Update
I am very pleased to announce that there are two new staff members in the Operations Office, who will be helping me with some of the many tasks that fall under this umbrella:
Anth has graciously agreed to become the Staff Assistant: Roleplaying Games. In this role, he will be a resource to other game managers for issues like where to find policy documents on the website, who to ask about website changes and things like that. He will also mentor new and current game managers on everything from how to plot out missions, tips and tricks for game Discords, and other things like that, in addition to helping mentor new game managers of pre-built games. He has a lot of experience running games and the Reliant, his game, is already shaping up to be a well-run and active space for our members.
StormyWays13 volunteered to join the Academy Team a while ago, even while still a cadet himself, and now that he's been in the fleet for a little while, I'm pleased to appoint him as a Staff Assistant: Academy, where he will help develop the courses mentioned later in this announcement.
RPG Updates
The policy on RPGs has been updated and reorganized to be more user-friendly. It includes new language on what factors a GM may consider when it comes to approving, disciplining, and removing characters to be more consistent with our other fleet policies. Basically, it's been made explicit that out-of-character actions should not result in in-character consequences (positive or negative). Good RPing should be rewarded through the OCS system if the contribution is significant enough. Lack of participation shouldn't result in an in-character demotion. This is all related to a refinement of our language to refer to what formerly were known as 'sims' or 'games' instead as RPGs, to avoid confusion with the Gaming Office and also to try to move beyond the term 'sim' which is heavily weighed down by enough baggage that it either confuses newbies or leaves a bad taste in the mouth of veterans, for promoting the sort of environment where GMs were taking the role of 'captain' a little too seriously. RPGs are collaborative writing communities that GMs provide as a service to their fellow members in the fleet, not private fiefdoms.
To that end, I have worked with the Lore Office to define RPGs this way:
RPGs are standing groups of members run by a Game Manager that write together collaboratively to either roleplay out a story or to construct a narrative together with an agreed upon set of plot points. These groups have more infrastructure than collaborative fiction, which can include an external website and a Discord server. They are meant to be used by groups of six or more people, where writing together on the forums would be unweildy.
This new definition was created both to clarify the difference between a game and a fiction but also to emphasize that the apparatus of a traditional RPG (i.e. a stand-alone Nova website or another device) is simply not necessary for informal groups of folks who want to get together and write together on one of their avatar ships together. This is already happening in several instances on the forums, and we want to encourage folks to do that if they want to. A formal game proposal—one that would need/want hosting—is therefore a higher bar to clear, given that smaller groups or partnerships can easily be accommodated without the extra infrastructure of a website and Discord server.
There also remains a sense of 'I am a captain' among a small minority of game managers. This dates back to the days when only GMs could be on staff and it's something we'd like to stop, as everyone in Bravo Fleet can have their own ship, and so everyone here is a commanding officer, and everyone can be on staff. Indeed, the majority of groups that are 'sim-only' keep this absurd premise, where GMs have substantially more power in their organizations than the players. In Bravo Fleet, there is substantially more representation among staff roles from non-GMs, which allows us to offer so many more options than just RPGs, which is something to be celebrated. Even as the BFMS becomes more and more capable, there will likely always be a need for certain kinds of RPGs to need more powerful, stand-alone tools, but we want to encourage people to see what they can accomplish through Relay Station Bravo as much as possible, and not see RPGs as superior to solo fiction or ad hoc group fiction.
There are still a number of pre-built games available for command, here. They have a website and a pre-determined premise, that's made to let you just turn the key and get started. They range in 'completeness' presently, from the Kennedy which even has the draft of a first mission started to the Ares which is a little more bare-bones. If you're interested in one of them, please reach out to me on Discord.
Academy Updates
For several months, the New Member Program has been chugging along behind the scenes. Many of you have participated in it to learn the basics of the organization, especially when it comes to activity reporting and our governance structure. This program has been revised a few times to accommodate changes to the policy, Task Force additions, etc., but it has remained largely the same. Moodle has proven to be a useful tool, as it will automatically generate a 'badge' that signifies the completion of the program. Indeed, twelve of the thirteen Ensigns who have been promoted since this tool was brought online used their coursework as part of their promotions with little extra staff effort and in effect making the educational process, not an add-on but something baked into the progression system.
Now that this system has had about five months to pilot with the introductory program, we are going to begin slowly adding new coursework. The current plan is for a core to include at least six courses: the new member program (live), the character creation program (in development), a fiction-writing program, a collaborative writing program, a gaming program, and an RPG manager program. We've also discussed other programs more tailored to individual platforms such as Introduction to Discord and Introduction to MediaWiki. The thing underlying all of these courses is that they will have specific learning outcomes that will help members do something better in the fleet after taking them, rather than being just another piece of dossier candy. We're balancing between ease of automated grading (so that they can be self-paced) with tasks that will help make life easier for staff and members.
If you have ideas for coursework, or if you would like to join the academy team to help make the coursework, reach out to me on Discord.
Task Force Staff Recognition
Finally, I am really pleased to be able to announce two awards and one promotion for our currently-serving Task Force Commanding Officers: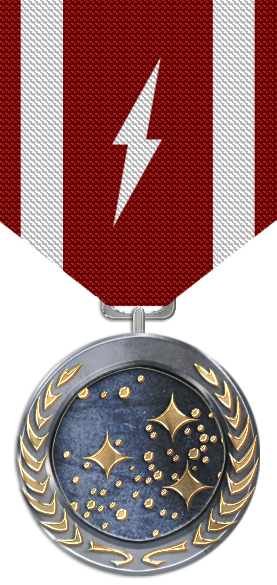 MJ, Task Force 17 Commanding Officer, The Jonathan Archer Order of Merit
Anyone who pays attention to the awards feed knows that MJ is one of our most prolific members. Since his last award in December, he has also stepped up into the Task Force 17 Commanding Officer position, a role which he has done with great aplomb. Task Force 17 is one of our largest and most active units, and as its leader, MJ has been responsible for nominating innumerable ribbons, promotions, and medals. He has also organized four fleet-wide competitions on behalf of his task force, alongside greatly expanding the task force's lore presence.

In terms of his personal activity, MJ wrote. A lot. Like… a heck of a lot, I tell you what. Since December, MJ earned 348 Service Ribbons for 87,000 words of fiction written and 17 Duty Ribbons for RPG posts. To put that in perspective, that's longer than either of the first two Harry Potter books, or any of the individual Chronicles of Narnia books. Impressive by any standard. 38,457 of these words were written for the Lore Office-sponsored Archanis Campaign, both in solo writing, writing alongside LadyBlue in a duet, and official releases for Task Force 17. Participation in department-sponsored events is one of the ways we hope our members will engage with the fleet, so it's great to see a unit leader setting an example in this way. What's even more impressive is that within this time period, he still managed to write 48,543 words on his own projects!

Writing isn't the only activity that MJ has done in this time period, though. He entered twelve competitions and placed in eight of them, earning 2 Action Medals with Galaxy Clusters, 3 with Star Clusters, and 3 with Planet Clusters. This is not only a high entry-to-placement ratio but evidence of varied activity, which is another thing we hope our unit leaders encourage.

For these contributions, I am pleased to nominate MJ for the Jonathan Archer Order of Merit.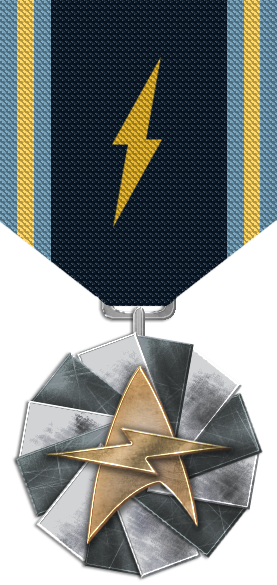 Shelley, Task Force 93 Commanding Officer, The Star Cross
The mechanisms of the fleet would not be able to function without reliable, dedicated staffers. Shelley is the epitome of a Task Force Commanding Officer who ensures that her unit works like clockwork, and she has personally submitted hundreds of ribbons, medals, and promotions in the five months since her last award. Task Force 93 is a vibrant corner of the fleet, and she should be commended for her work to make this possible. As TF93 Commanding Officer, Leah organized 10 fleet-wide competitions on behalf of her task force, which gave many members the ability to engage with the fleet and which garnered over a hundred total submissions.

In terms of her own activity, Shelley is also one of our most active members, having earned 18 Duty Ribbons for posts on RPGs, 50 Service Ribbons for 12,500 words of fiction, 60 Combat Action Ribbons for online play in Star Trek: Online completed with other members, 9 Strategic Action Ribbons for solo play in Star Trek: Online, and 2 Campaign Ribbons for major gaming achievements in Star Trek Online. She also entered six competitions and earned three Action Medals, one each with a Galaxy, Star, and Planet Cluster for placing First in the Task Force 72 Reloaded Puzzle, Second in the Winter 2020 STO Competition, and 3rd in the Klingon Recruitment Event. This represents an outstanding breadth of activity, as she participates in every aspect of the fleet, which is exactly the model we hope that unit leaders are able to set for their members.

Shelley has also been a great participant in unit-level initiatives, specifically Gaming Office events (which she has placed in twice, as noted above) and the Archanis Campaign presented by the Lore Office. For the Archanis Campaign, Shelley wrote 10,955 words, which included both personal contributions aboard the Vesta, and official releases from Task Force 93. Participation in department-sponsored events and campaigns is another area in which unit leaders can serve as models, and Shelley has shown what it looks like to be a highly active member.

Finally, Shelley has also contributed to the Operations Office by helping out with a number of skins for pre-made Nova sites, and that help is greatly appreciated.

For all of these contributions over the past four months, I am pleased to nominate Shelley for the Star Cross.

Woozamagoo, Task Force 86 Commanding Officer, Promotion to Commander
Woozamagoo, whom we affectionately refer to as Wooz time is of the essence, is a newer member to Bravo Fleet, but also one of our most active. Since his last promotion in January, he has amassed 73 Service Ribbons for 18,250 words of fiction and 7 Duty Ribbons for posts on RPGs, including the Altai which he GMs. He also participated in 7 competitions and placed in 5 of them, earning 1 Action Medal with Galaxy Cluster, 3 with Star Clusters, and 1 with a Planet Cluster, which represents both a lot of activity and a lot of high-quality submissions. 9,382 words of Woozamagoo's fiction were contributions to the Archanis Campaign. Contributing to department-sponsored events is something we hope that we hope all members will consider, so it's laudable to be a model for others in this way.

Last month, Woozamagoo also stepped up into the role of TF86 Commanding Officer, after a very short time as Task Force Executive Officer, but he's already demonstrated that he's up for the job, having organized three fleet-wide competitions on behalf of his task force and ably handling activity award nominations, with the smallest Task Force staff in the fleet. We are sure that TF86 will flourish under Woozamagoo's leadership and can't wait to see what's in store!

For considerable activity and these noted contributions to the fleet, I am pleased to nominate Woozamagoo for promotion to Commander.
Congratulations to all three of these individuals. Running a Task Force is a complex job, with responsibility for activity ribbons, promotions & medals, competitions, community spirit, and lore concerns for their whole unit. Sometimes things work so well that it appears to be easy, but all of these individuals put in many hours per week on making sure that the rest of the fleet can focus on writing, gaming, and competing—while also each being some of our most active members themselves. So, the next time you see your TFCO, make sure you show them you appreciate all the work they're doing, beyond the recognition the fleet is able to bestow upon them.