STO Klingon Recruitment Challenge
Enter Competition
Lead Judge
Rob Mackenzie
Start Date
2/3/2021
End Date
2/25/2021
Rules
Before participating in a competition, please read and understand our competitions policy. Please do not share your results or submit multiple entries. Violations of these rules are punisble by the Magistrate Office.
Questions
If you have a question about our rules or one of our competitions, please contact the Office of the Chief of Staff.
Bravo Fleet Chief of Staff

cos@bravofleet.com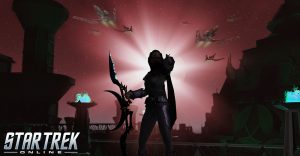 The Klingon Recruitment event is in full swing! Coinciding with the 11th Anniversary of Star Trek Online, this features new missions, remastered missions, and the option as playing the Klingons as seen in Star Trek: Discovery. Various prizes can be claimed, including a new T6 ship, the Temer, uniforms, emotes, weapons, dilithium, and many other goodies that come with any recruitment event. And Bravo Fleet? We can get a piece of the action as well.
As part of this, we are offering a competition unlike any other that has been done for Bravo Fleet's Star Trek Online group. While this competition is active and if you submit a gaming record to the BFMS with a KDF-aligned character, you can:
Double the rewards for any solo Task Force Operation submitted through the BFMS
Double the rewards for any group Task Force Operation submitted through the BFMS
Submit gaming records to the BFMS if you have completed campaign missions as part of a group of two or more BF members
Submit gaming records to the BFMS if you have completed PvE Patrols as part of a group of two or more BF members
Gain an extra entry for this competition by submitting a gaming record for achieving Level 65 with one KDF member in the Bravo Fleet group
Criteria
Open to KDF Bravo Fleet members only
You do not have to submit a record through Competition Submissions; please submit normal gaming record submissions
You may use the end debriefing of the TFO, patrol or campaign mission to show the completion of the task, with the team roster showing the BF members visible
Only one entry is required through the BFMS for the entire team, but that person has to list all the members' user names in the BFMS in the one submission
Combat Action Ribbons, Strategic Action Ribbons and Campaign Ribbons will be awarded based on the submissions received, with bonuses awarded for Task Force Operations only
Each submission for a ribbon is an entry for the competition; Task Force Operations will count as two entries for this competition
If submitting multiple entries at once for one single ribbon, please use a photo gallery link
One bonus entry available for a single KDF character achieving Level 65 in Star Trek Online