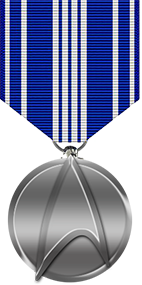 The Legacy Medal represents an old medal for which there is no current comparable award in the current system. This may mean the criteria for the award is no longer applicable to present ribbons, or the written nomination lacks sufficient detail for the OCS to award a current medal in its place. The Legacy Medal still represents a notable contribution to Bravo Fleet in past years.
---
Date
Mar 29, 2019


Quantity
1

This medal is typically awarded to sims in a Task Force. However, due to extraordinary circumstances, I am electing to bestow this award on seven individuals, Aio, Wizardbeard, Stephen, Temple, Teix, BlackWolf, and Beeman, for their involvement in the "Negotiations" miniseries hosted between Palais de la Concorde and Starbase 72. This grand experiment was a rousing success, ensuring that the Federation would not lose access to a cornerstone area of 72's Area of Operations, the Inconnu Expanse.
---
Date
Mar 29, 2019


Quantity
1

The USS Pandora, one of 72's longest-standing sims, is our trailblazer in the Inconnu Expanse. Though many ships have entered, none have explored as much as this Luna-class vessel, from settling a border dispute between the Talarians and Tzenkethi, introducing the Ravagers, and now exploring the alien Paradise Outpost. This medal is awarded to its GM, Temple, on behalf of the entire sim.
---
Date
Jul 10, 2018


Quantity
1

As TFCO, I would like to nominate the USS Pandora for Task Force 72's Participation Medal. It's mission, "Into The Wild," provided a lot of insight into the Ravagers and how part of this unknown and misunderstood organization operates within the mysterious Inconnu Expanse.
---
Date
Jun 17, 2017


Quantity
1

Participation in joint story line.