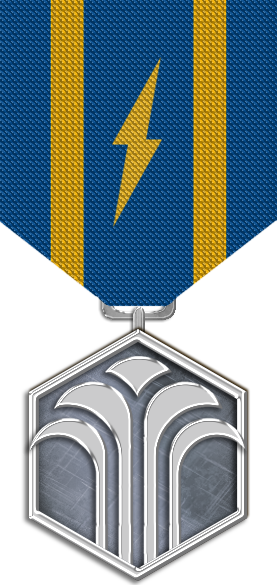 The Silver Palm is awarded for extended service to one's Task Group or Task Force, such as duties that aid a TGCO or TFCO as well as being a mentor to others. Activity over a period of some time that goes above and beyond what is considered normal can also be rewarded with this award.
---
Date
Nov 11, 2020


Quantity
1

In her six month tenure with the Appeals Panel, Leah has conducted herself with exceptional professionalism, raised valid questions from the case presented, and her input was invaluable to the case handled.

It is my great pleasure to award her with the Silver Palm, and offer my sincere thanks for her steadfast work with the Fleet.
---
Date
Jul 08, 2020


Quantity
1

Shelley has proven herself in both TF9 and TF38 to be one of the most active members in the fleet, racking up an impressive fifty-five Service Ribbons for her writing on Relay Station Bravo. She is also highly active on Discord, being one of the first people to greet newcomers and providing help with all sorts of questions, ranging from how to get started with the BFMS to more technical questions with Nova usage and Nova skins. It has been clear from the start of the new model that Shelley not only thrives personally in this new environment but is also one of the best mentors and advocates for encouraging people to get involved. In addition to her personal activity, Shelley also serves as part of the TFSS in TF9, works as a Nova Specialist, and serves as the Command Adjutant in the Communications Office, while also being a member of Guardian Station, Delta-Bravo, and Hawkeye Island, so her contributions truly touch all corners of the fleet. For all of these contributions, I am pleased to nominate Shelley for the Silver Palm.

– Rear Admiral Elizabeth Hayden, Task Force 9 TFCO
Leah has exemplified what it means to be a team player. Striving to do her best while keeping a good attitude. She has taken on her responsibilities with pride while being open to change and discussion. I fully endorse this award for her and hope that she continues to work for the betterment of our community!

– Rear Admiral Robert Dowd, BF Communications Officer