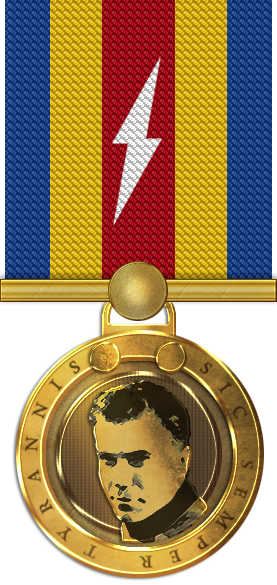 Recipients of the Christopher Pike Medal of Valor have demonstrated their value to the whole Fleet through extreme dedication to one or more specific aspects of the organization. This can include service as a member of the Admiralty, or service on a major Fleet project. It is often awarded to those who have shown themselves to truly bring something new to their given position. However, their actions are not to be solely consigned to their specific Task Force, but instead, must show that they have had an impact outside of their respective work. One who receives this medal will be known to the Fleet at large, their impressive array of work standing the test of time.
---
Date
Jun 10, 2020


Quantity
1

Slagar joined the Office of the Chief of Staff during Bravo Fleet's transition to the new model and brought with him a wealth of experience from similar organisations. That experience has been invaluable throughout the new model's first month, with Slagar helping explain new concepts and their purpose, and providing guidance on turning policy into practice. Many ideas have become reality in large part thanks to his suggestions and explanations. This has mostly happened behind the scenes; while I as Chief of Staff have often explained and guided the Fleet on the new model, much of my own understanding has come from Slagar, the Fleet benefiting from his skills often unknowingly.

Beyond the asset of this experience, Slagar has also been a tireless worker in the practicalities of updating the Office of the Chief of Staff. The vast majority of the award descriptions are his work, outlining the new reward criteria – a particular feat of breaking down contributions to be assessed and measured. The graphics for at least half a dozen medals, all competition awards, and multiple ribbons were also produced by him. I was particularly pleased when he showed his own initiative in designing the Challenge Coins for the Raptor's Wings Fleet Action, offering competitors a once-in-a-lifetime prize for participating. All of these are images which Fleet members get to display on their dossiers with pride.

He has also been one of the most active contributors to Bravo Fleet's Star Trek Online presence, racking up no less than 17 Campaign Ribbons. His vast participation in the Raptor's Wings Fleet Action earned him 5 Gold Stars across the competitions, and he placed Third overall. The majority of Fleet staff are active writers on sims, or fictions, or in developing Fleet canon. When I identify Slagar as an exception, I mean to draw attention to him as an example of the many other invaluable ways one can participate and contribute to the community of this Fleet.

I could not have done my job these past 2 months without him.

— RAdm Alexander Beckett, BFCOS
---
During the transition in June of 2019, the BFA that was coming in to pick up the rubble of what was left behind knew that a "New Era" was needed in many ways. Part of that, it was decided, was a facelift. Slagar stepped up to the plate, nearly unprompted, and produced the new logo that Bravo Fleet currently uses. On top of that, he has lent continued support graphically by designing and redesigning the task force logos, adjusting the logo we do use, and improving the ship banner templates. He has also rendered countless hours of his expertise both physically and in consulting to improve the graphical presentation and presence of Bravo Fleet and its website. Thank you for all that you have done over the last year!
— FAdm Teylas Ramar, BFCO