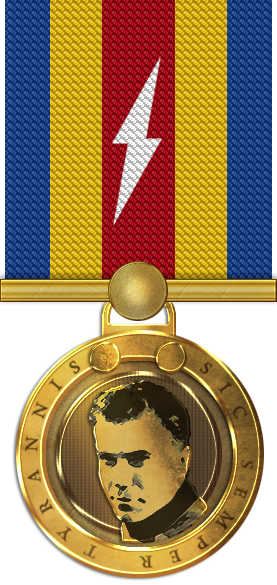 Recipients of the Christopher Pike Medal of Valor have demonstrated their value to the whole Fleet through extreme dedication to one or more specific aspects of the organization. This can include service as a member of the Admiralty, or service on a major Fleet project. It is often awarded to those who have shown themselves to truly bring something new to their given position. However, their actions are not to be solely consigned to their specific Task Force, but instead, must show that they have had an impact outside of their respective work. One who receives this medal will be known to the Fleet at large, their impressive array of work standing the test of time.
---
Date
Jan 02, 2021


Quantity
1

Since her last promotion, Cath has made the leap from Chief of Staff over to Loremaster. In her capacity as Loremaster, Cath has overseen a huge revamp in Bravo Fleet canon. One of Cath's first and most important directives as Loremaster has been to finally unchain task forces from geographical areas of operations and into themes in conjunction with taking task force canon out of the hands of requiring task force staff to fulfill their canon requirements. The Lore Office now fully supports the development and creation of task force canon for any task force that is unable or unwilling to do it themselves. This has allowed TFs to spend more time on a myriad of other things, or choose to delve into task force canon themselves with Lore Office assistance. Additionally, under her guidance, the forums have been reorganized to allow for better usage of each task force and upticks in fiction writing there as a result. Cath has also been hard at work at the wiki revamp that started a few months ago which has seen a rewrite of many prominent canon articles to be in line with the new 2399 Bravo Fleet canon, many written by Cath herself.

For all her hard work over this past year since her last promotion, I'm happy to award her second Christopher Pike Medal of Valor!

— FAdm Teylas Ramar, BFCO
---
Date
Dec 25, 2019


Quantity
1

When the Transition Team was sorting through the aftermath of everything that had happened it was immediately apparent that TF72 was a proverbial minefield to walk through. We knew that an experienced, steady hand would be needed to wrangle things back together. In the 6+ months since then, LadyBlue has done exactly that. Not only has she successfully kept 72 as a cohesive unit, she has also had to deal with running one of the two task forces that will be directly affected by the canon that Picard will bring. That uncertainty has been a huge challenge, but LadyBlue had helped steer 72 in all the right directions to prepare for it. On top of all of that, she has also been an integral part of working out a lot of the small details in the new model we are slowly transitioning into. Congratulations, and thank you for being such a great addition (readdition?) to the BFA!