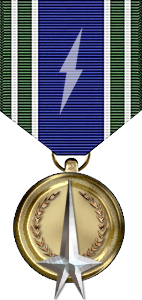 Those who receive the Medal of Achievement have shown a strong level of activity within their Task Force or Task Group through gaming, participation and placement in competitions and events, or having worked on small-scale projects.
---
Date
Jul 23, 2015


Quantity
1

Emily worked tirelessly to develop key fleet operational systems. She relaunched the Bravo Fleet Graphics Team, designing new game banners and fulfilling avatar and forum signature requests. She assisted in rebuilding the Bravo Fleet Infobase, organizing content and expanding the database. She also developed a Fleet-branded Nova theme for game managers.
---
Date
Jul 23, 2015


Quantity
1

Emily was a constant, active presence on IRC, raising fleet morale and helping new members to find a place our community. She also provided and managed an additional server on Bravo Fleet's IRC network for members in Europe.