STO First Contact Day Captain's Screen Capture Event
Description
Welcome to First Contact Day 2022!
In Star Trek Online, First Contact Day has meant for the last several years you go back to Bozeman, Montana, where it all started for the Star Trek universe. Some may say it has been a long road getting from there to here. But not us. We would not want to lose… faith of the heart. As there already is ways for you to make Strategic Action Ribbons come out of your ying-yang with just participating in the First Contact Day TFO, we thought we would throw a little bit of a different flare on First Contact Day this year, and focus on the other species in that first contact: Vulcans.
Leonard Nimoy was born a few days before First Contact Day, on March 26th, 1935. Because of his untimely passing, and due to him being one of the first major voiceovers Star Trek Online had, Spock is held in very high esteem in-game, being the 2409 Starfleet ranking up voice, the opening video narration for the 2409 Starfleet faction and speaking to your character as you set out in the TOS Starfleet, to name a few. Because of Spock's involvement in the storyline, at the very least your character would probably visit that statue on Vulcan once in their career. In this competition, you are going to take a picture of your character at the Spock statue on Vulcan, in a way that best captures seeing that statue in your mind for your character.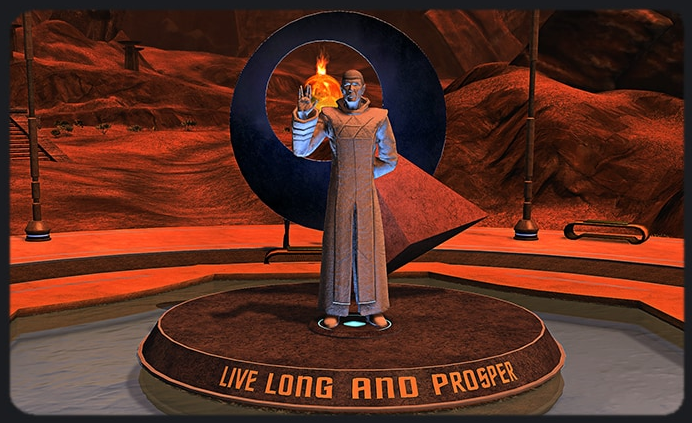 Does this have to be a "selfie"? No. You don't have to be facing the camera at all if you don't want to.
Does this have to be a serious picture? Not totally, but treating the memorial with respect is key.
Criteria
Take a picture of your character at the Spock Memorial on Vulcan
It does not have to be a selfie, but more along the lines of a tourist type photo of seeing the statue and paying respects to Spock as if your character was doing so
The award for this competition will go to the entry that best fits the entry criteria - accurate representation of your character, image composition, amount of memorial in the actual pic is appropriate for the style of photo
Console and PC players may enter this competition