As Time Goes By…: [Phase 1]: 'Tales from the Captain's Table' – Part 1
Description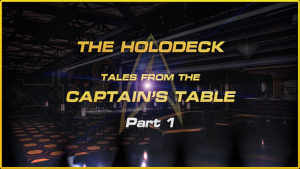 Join 'Cap' in the Tavern and share a story from one of your character's background (prior to 2399) that was a pinnacle event that had an impact on their life.
Write no more than a maximum of 3000 words.
You need to write in the third person, starting from your character's arrival at the Tavern and then moving on to sharing your story from your background. The re-telling of their background must have a transition point to show the reader the explicit move from being in the Tavern to their event from their background and then back to the Tavern.
Please use this title at the start of your post so we know it is part of the competition: Tales From The Captain's Table – Part I
And remember to upload the link to the post when submitting via the BFMS.
Criteria
How well the character is developed, including the background story that is explored.
Originality - how different and original the pinnacle event is to the character and how well it has an impact on them.
The quality of your character's interaction with Cap - this includes the friendly banter and the type of advice/comment he makes at the end that either helps or encourages your character further.